Evidences for a Young Sun
by Keith Davies
No Core - Creation - Young Sun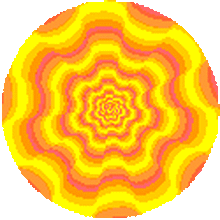 interior of Sun - Creation pov
Core - Evolution - Old Sun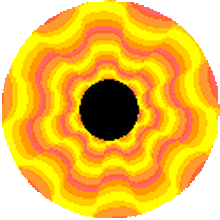 interior of Sun - Evolution pov
In the same way that seismology gives us information on the structure of the Earth, so does the relatively new discipline of helioseismology provide important information on the structure of the Sun. If the Sun is an old star, then, according to the "standard model," it should have a large core reaching out to a distance of around 175,000 km from its center and having a density about fourteen times that of lead.[4] A core of such a size and mass would, of course, have a substantial effect on any global oscillations of the Sun. In particular, the presence of such a large core would mean that the Sun's global oscillations would range up to a maximum fundamental radial mode of oscillation of around one hour.[5] Oscillations greater than one hour would involve such enormous amounts of energy that they would result in the complete disruption of any large core that might be present in the Sun.[6]
If, however, the Sun is similar to a very young homogeneous star that has not yet developed a large central core, then its spectrum of global oscillations have been calculated as including a much longer fundamental radial oscillation of 2 hours 47 minutes, together with a non-radial fundamental oscillation of 59 minutes and either a second harmonic radial oscillation of 47 minutes or a 42 minute, non-radial second harmonic oscillation.[7]
The predicted oscillation of 2 hours 47 minutes is particularly important as being a key distinguishing feature of a young homogeneous star.
The Russian astronomers were certainly startled to find that their observations of the Sun were showing large and remarkably stable global oscillations with a period of 2 hours 40 minutes[8]—very close to that predicted for a young homogeneous Sun.
When trying to explain this quite unexpected observation, they stated in their article that a "most striking fact is that the observed period of 2 hours 40 minutes is almost precisely the same . . . as if the Sun were to be an homogeneous sphere."[9]
The concept of the Sun's being an homogeneous sphere was so contrary to all previous ideas that the Russians were anxious to find alternative explanations. They kept on returning, however, to the conclusion that their work, which involved the observation of systematic fluctuations in very large portions of the Sun's surface (comparable in size with the radius of the Sun's disc) "points definitely to pulsations of the Sun as a whole."[10]
Graph of Solar Resonant Frequency vs Age and Temperature